Learning, Service, and Fun at the White Plains Public Library
Contributed by Jody Kennedy, Libby Hollahan and Brian Kenney (Photo Credits to Janet Herrera)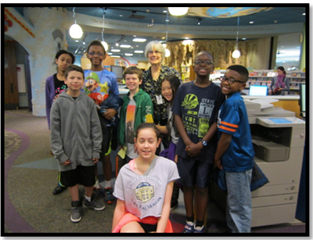 Over the years, the Foundation has had the opportunity to know and work closely with the public school district and public library in White Plains, NY where one of five U.S. mainland Shinnyo-en temples is located. This year, the Foundation encouraged and supported collaboration between the White Plains City Schools and the White Plains Public Library, both natural places for learning, with hours and services that complement each other. This article highlights some of their most recent activities together!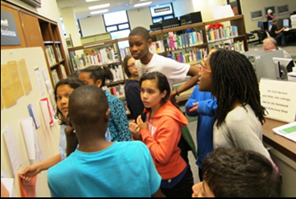 Over 500 sixth graders from Eastview Middle School in White Plains, NY, enjoyed full day visits to the White Plains Public Library this May. Teachers, librarians and administrators planned the full day field trips with the public library team in order to introduce all students at Eastview to the many resources available at the Library, and to welcome them to the Library's new space for teens, called The Edge. The sixth graders rotated around four activities during the day. One station was a scavenger hunt throughout the Library and it was designed to familiarize them with the adult collections in the Library and the many programs and services available to them in The Edge.
Students enjoyed a graphic novel workshop by Barbara Slate, author of the Archie comic series, about how to create a graphic novel. The students learned about storyboarding and the many outcomes of writing.
At another station, students were introduced to the exciting world of 3-D printing, and got some hands-on experience in 3-D modeling using SketchUp on the library's laptops.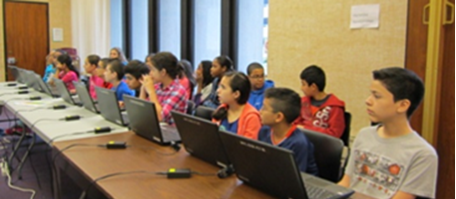 Four separate service activities were organized at another station giving students the opportunity to create something to benefit those in need in our community. The students made hundreds of bookmarks for The Trove children's library, origami and letters of encouragement and support for children at the Maria Ferrari Hospital for Children and colorful flower bouquets for senior citizens. The service activity was a great hit with the students and their teachers.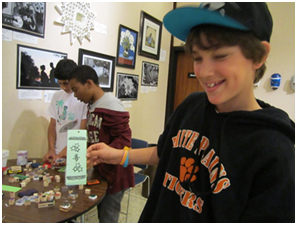 Based on comments from students, teachers and Library staff, the sixth grade visits were a big success, and a great way to introduce middle school students to the many resources at the Library. We know students will be coming back to visit The Edge! Students also learned about the Library's summer programs, including a TV Production Workshop for students entering grades 7-9, also supported by the Shinnyo-en grant.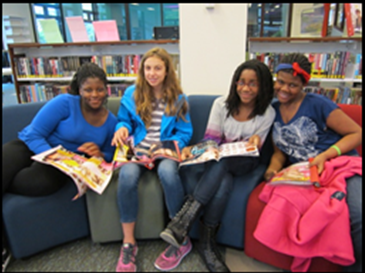 Click here to watch a newscast about the 6th grade library visits produced by White Plains Eastview Middle School students!